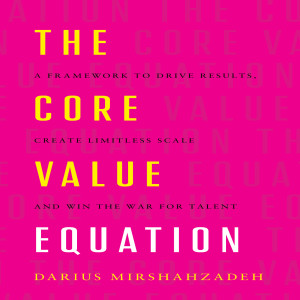 Wednesday Nov 11, 2020
Episode 1297 - LinkedIn Live Conversation with Author Darius Mirshahzadeh
Ric talks with author Darius Mirshahzadeh about his new book "The Core Value Equation".  Darius addresses 7 questions Ric had about core values during their conversation heard live on LinkedIn on Tuesday, November 10, 2020.
Q1 Can you define, from your perspective, what you mean by the term CORE VALUES?
Q2 You write in your book The Core Value Equation that companies don't have core values people do. What do you mean?
Q3 What is your advice on how to properly design core values to become the language of the organization?
Q4 Can you share the four most critical elements that core values need in order to create consistent, impactful results in any organization?
Q5 You talk about the importance of the quality of design when creating core values. Can you discuss how Steve Job's approach to design is an inspiration CEOs about designing core values?
Q6 In chapter 5 you outline the key design principles of creating well-designed core values. What are they?
Q7 The balance of your book deals with how to launch your core values, make them sticky, and how to determine the ROI on your core values. Can you highlight the most critical aspects of each?