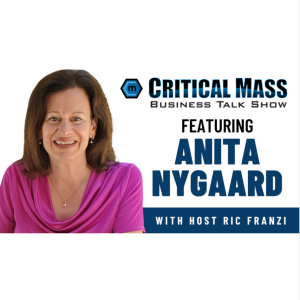 Friday Oct 22, 2021
Critical Mass Business Talk Show: Ric Franzi Interviews Anita Nygaard, Founder of CorHR, Inc. (Episode 1311)
Anita Nygaard is Founder and Lead Consultant of CorHR, Inc. a Human Resources consulting firm. CorHR partners with professional services businesses across the state and country to provide expert advisory on the three C's: Compliance, Coaching manager development and building cultures to attract and retain valued talent.
For over 25 years, Anita has held progressive Human Resources management roles with Fortune 500 multi-state and global organizations and advised hundreds of small to medium-sized businesses. CorHR clients served include organizations focused on: engineering, software development, architecture, accounting, universities, law firms and construction project management.
Many clients have fewer than 100 employees. Anita holds current professional certifications as a Senior Professional in Human Resources and as a California HR Professional. Her master of science degree is from the University of San Francisco; bachelor of science is from Cornell University - the inspiration behind business name "CorHR."
---
Critical Mass Business Talk Show is Orange County's longest-running business talk show, focused on offering value and insight to middle-market business leaders in the OC and beyond. Hosted by Ric Franzi, business partner at Renaissance Executive Forums Orange County.
This edition of Critical Mass Business Talk Show is proudly supported by Gottlieb, Rackman & Reisman, P.C. GRR provides legal advice and guidance on all aspects of intellectual property law including patents, trademarks, and copyrights. Learn more at GRR.com.