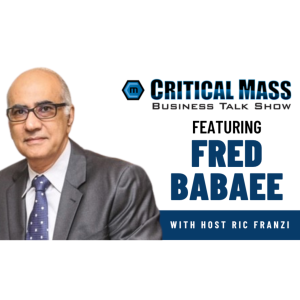 Sunday Oct 17, 2021
Critical Mass Business Talk Show: Ric Franzi Interviews Fred Babaee, CEO of Simply Mobile Dentistry (Episode 1309)
With a wealth of knowledge in key aspects of business innovations and numerous awards in customer satisfaction, Fred Babaee is an industry voice in the field of portable dentistry manufacturing and marketing technology. He currently manages two startups: Cor3 Telemed LLC and Simply Mobile Dentistry.
Prior to his current ventures, Fred served as the owner and acting CEO of Chipco Computer Distributors, Inc. and Corlogix, Inc. Fred developed account strategies that resulted in exponential growth, and both companies were sold successfully in March of 2013.
In this edition of Critical Mass Business Talk Show, Ric Franzi talks to Fred about his successful career, which he to one simple principle: building long-term relationships with every customer.
---
Critical Mass Business Talk Show is Orange County's longest-running business talk show, focused on offering value and insight to middle-market business leaders in the OC and beyond. Hosted by Ric Franzi, business partner at Renaissance Executive Forums Orange County.
This edition of Critical Mass Business Talk Show is proudly supported by Gottlieb, Rackman & Reisman, P.C. GRR provides legal advice and guidance on all aspects of intellectual property law including patents, trademarks, and copyrights. Learn more at GRR.com.