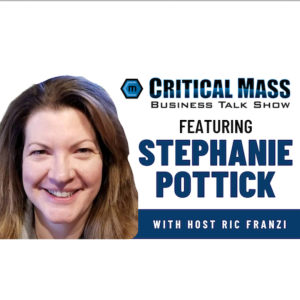 Sunday Oct 17, 2021
Critical Mass Business Talk Show: Ric Franzi Interviews Stephanie Pottick, Founder of Pottick Law (Episode 1308)
Stephanie Pottick is an experienced legal and business professional who is passionate about helping inventors, entrepreneurs and business owners protect their brands and businesses.
Before becoming an attorney, Stephanie was an executive in the toy industry and was involved with sales, marketing, IP licensing, brand protection, manufacturing, product creation and more. Her unique blend of experience in both business and legal allows her to view and understand issues from both perspectives.
In this edition of Critical Mass Business Talk Show, Stephanie will announce a Top Secret project she's been working on. Tune in to find out what it is!
---
Critical Mass Business Talk Show is Orange County's longest-running business talk show, focused on offering value and insight to middle-market business leaders in the OC and beyond. Hosted by Ric Franzi, business partner at Renaissance Executive Forums Orange County.
This edition of Critical Mass Business Talk Show is proudly supported by Gottlieb, Rackman & Reisman, P.C. GRR provides legal advice and guidance on all aspects of intellectual property law including patents, trademarks, and copyrights. Learn more at GRR.com.