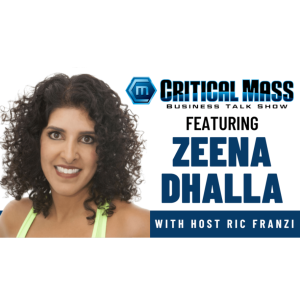 Sunday Dec 19, 2021
Critical Mass Business Talk Show: Ric Franzi Interviews Zeena Dhalla, Founder of VerticAlign Posture & Ergonomics (Episode 1324)
Zeena Dhalla is a premier Postural Alignment Specialist, Certified Ergonomics Specialist, Personal Trainer, and Pilates Instructor in the Orange County, California area and is the Founder of VerticAlign Posture Coaching.
Zeena is also known for co-authoring the Random House/Penguin published book, Sculpt and Shape: The Pilates Way with Celebrity Fitness Trainer Yasmin Karachiwala. Zeena has also been featured in Pilates Style Magazine, OC Metro, and OC Register.
Zeena graduated with a BS from Northwestern University and has multiple certifications from organizations such as the National Academy of Sports Medicine, the National Postural Institute and the Egoscue Method of Postural Alignment.
Her company VerticAlign Posture Coaching provides pain relief solutions for individuals and corporations such as Google and Microsoft. Zeena teaches virtual posture and ergonomic workshops to teams virtually. VerticAlign's "3 Week Desk Pain Solution" program offers a revolutionary way to bring posture-specific exercises to the workplace to institute a cultural change of movement at the desk.
Zeena Dhalla joins host Ric Franzi on Critical Mass Business Talk Show to discuss why "sitting is the new smoking", and how VerticAlign aims to empower its clients with the ergonomic and exercise tools needed to command their posture and eliminate their pain.
---
Critical Mass Business Talk Show is Orange County's longest-running business talk show, focused on offering value and insight to middle-market business leaders in the OC and beyond. Hosted by Ric Franzi, business partner at Renaissance Executive Forums Orange County.
This edition of Critical Mass Business Talk Show is proudly supported by Gottlieb, Rackman & Reisman, P.C. GRR provides legal advice and guidance on all aspects of intellectual property law including patents, trademarks, and copyrights. Learn more at GRR.com.