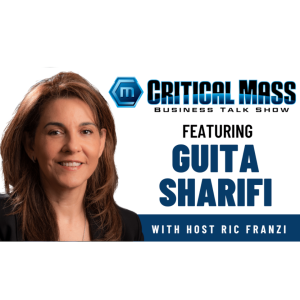 Sunday Dec 19, 2021
Critical Mass Business Talk Show: Ric Franzi Interviews Guita Sharifi, Chief Financial Officer of Lifelong Learning Administration Corporation (Episode 1326)
Guita Sharifi has been a CFO in the healthcare and education nonprofit sector for 17 years. She currently serves as CFO of Lifelong Learning, a national nonprofit educational service organization that partners with schools including those in the Learn4Life network, which provides personalized learning to nearly 50,000 at-risk youth across the county.  
A community activist, Guita has served on numerous charitable boards over the past 20 years, including roles as co-chair/founder of the Orange County CFO Leadership Council, founding member of Private Director Association South County, and OC 5th Supervisorial District Representative on Taxpayers Oversight for Measure M. 
Guita has been nominated by Orange County Business Journal (OCBJ) eight consecutive times for the CFO of the Year awards, and won the Outstanding Nonprofit CFO of the Year Award in 2019. Sharifi was named to the 2020 OCBJ's inaugural OC500, which is comprised of the most influential businesspeople and opinion shapers in the county.
In this edition of Critical Mass Business Talk Show, Guita joins host Ric Franzi to discuss her firm Lifelong Learning, her insights as CFO, as well as her leadership in the Orange County business community at large.
---
Critical Mass Business Talk Show is Orange County's longest-running business talk show, focused on offering value and insight to middle-market business leaders in the OC and beyond. Hosted by Ric Franzi, business partner at Renaissance Executive Forums Orange County.
This edition of Critical Mass Business Talk Show is proudly supported by Gottlieb, Rackman & Reisman, P.C. GRR provides legal advice and guidance on all aspects of intellectual property law including patents, trademarks, and copyrights. Learn more at GRR.com.