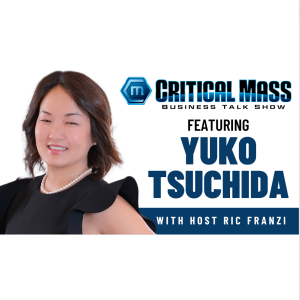 Wednesday Jul 06, 2022
Critical Mass Business Talk Show: Ric Franzi Interviews Yuko Tsuchida, Founder & Owner of Hito LLC (Episode 1372)
Yuko Tsuchida, CPA, MBA, is a Certified Public Accountant with over 10 years of tax consulting experience advising multinational corporations on value-added tax strategies. Her career started with KPMG's Japanese tax practice where she provided audit, tax, and advisory services to Japanese companies operating in the United States. After KPMG, she co-founded Think, LLP, a strategic tax advisory firm specializing in income tax planning, R&D credits, investment, employee and training tax credits, and incentive services. Throughout her career, she has helped clients claim over $100 million in incentives and credits.
Ms. Tsuchida founded Hito, LLC in October 2017 after seeing how many companies fail to achieve their projected growth because they lack the time and resources to implement tax planning strategies that aligned with their long-term business objectives. Hito is the Japanese term for 'people' and Ms. Tsuchida believes people drive business growth. Hito provides value-added tax consulting services focused on tax incentives and credits. Hito accelerates the growth of businesses and promotes change through tax benefits. This helps businesses unlock savings by minimizing taxes and freeing up capital for reinvestment into the business and its employees.
Ms. Tsuchida enjoys volunteering her time to guide nonprofit organizations, specifically those with missions that support childhood development. She has spent several months consulting with orphanages and early childhood development centers in Cambodia and South Africa. providing financial expertise on long-term financial sustainability, her dream is to build a not-for-profit organization in Sub-Saharan Africa or Southeast Asia to provide education to underprivileged children.
Ms. Tsuchida holds a Bachelor of Accounting from Northeastern State University (Oklahoma) and a Master of Business Administration from IE Business School (Madrid, Spain).
--
Critical Mass Business Talk Show is Orange County, CA's longest-running business talk show, focused on offering value and insight to middle-market business leaders in the OC and beyond. Hosted by Ric Franzi, business partner at Renaissance Executive Forums Orange County. Learn more about Ric at www.ricfranzi.com.
Catch up on past Critical Mass Business Talk Show interviews...
YouTube: https://lnkd.in/gHKT2gmF
LinkedIn: https://lnkd.in/g2PzRhjQ
Podbean: https://lnkd.in/eWpNVRi
Apple Podcasts: https://lnkd.in/gRd_863w
Spotify: https://lnkd.in/gruexU6m
#orangecountyca #mastermind #ceopeergroups #peergroups #peerlearning