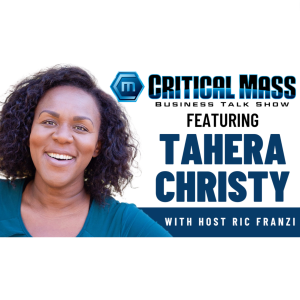 Sunday Jan 30, 2022
Critical Mass Business Talk Show: Ric Franzi Interviews Tahera Rene Christy, Founder of Love Amour Propre®️ (Episode 1341)
Based in Mission Viejo, Amour Propre®️ is a beauty brand that strives to make the world a better place, one person and one natural product at a time. Translating to "Self-Love" in French, Amour Propre®️ is centered in self-love, enhanced by science, inspired by nature and fueled by positive energy.
Amour Propre®️ is in business to encourage our customers to practice self-love by experiencing the joy of utilizing natural, organic, and aromatherapeutic wellness and beauty products. Established in March of 2020, Amour Propre®️ saw $20k in profit in its first month in business alone.
With over 150 products and variations made for women and men alike, the brand offers a luxury experience at an affordable price.
In this edition of Critical Mass Business Talk Show, Founder & CEO Tahera Christy joins host Ric Franzi to share her success with Amour Propre®️, and what she has learned throughout her business journey.
Critical Mass Business Talk Show is Orange County, CA's longest-running business talk show, focused on offering value and insight to middle-market business leaders in the OC and beyond. Hosted by Ric Franzi, business partner at Renaissance Executive Forums Orange County. Learn more about Ric at www.ricfranzi.com.
Connect with Ric Franzi on LinkedIn HERE.
Catch up on past Critical Mass Business Talk Show interviews...