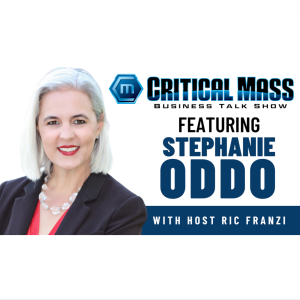 Monday Jan 24, 2022
Critical Mass Business Talk Show: Ric Franzi Interviews Stephanie Oddo, Founder of Healthcare Mask Collaborative (Episode 1338)
Stephanie Oddo is an educator, entrepreneur, and Laguna Niguel City Council candidate. Most recently, Stephanie has found much reward in serving as Director of Government for the League of Women Voters of Orange Coast. She launched the League's first-ever Observer Corps. The Corps inspires, trains and empowers volunteers to observe and report on their local city and county public meetings. The program currently observes 7 cities and 4 county boards. 
Stephanie is the founder of Healthcare Mask Collaborative (HMC). HMC served almost 150 organizations, had over 220 sewers who sewed and distributed over 65,000 cloth masks during the COVID-19 pandemic. As the first Democrat to ever run a serious campaign in Laguna Niguel, Stephanie earned over 11,000 votes and was the next on the ballot to win in the 2020 election. Stephanie is now launching a new nonprofit with her business partner that will empower and educate women on how to report certain crimes against them.
Stephanie has also served as President of the Laguna Niguel Rotary Club where she spearheaded two efforts that are still in practice today: a free local dental clinic that serves approx. 100 people a year and an effort to obtain the club's first Global Grant (raising money for medical equipment that trained doctors in Latin America how to perform free surgeries to burned children). This propelled her to serve as Chair of International Service for Rotary District 5320 (Orange County and Long Beach) and to train others how to obtain Global Grants.  
Previously, Stephanie was a public relations and web services consultant for government, nonprofits, and businesses in the Washington, DC. area. Some of her clients included Microsoft Government, Verisign, Maryland Dept. of Energy, EPA, NASA, U.S. Dept. of Justice, DC Healthy Families, Insurance Institute for Highway Safety, and the nationally televised Hispanic Heritage Awards.
In this episode of Critical Mass Business Talk Show, Stephanie joins host Ric Franzi to discuss her career path, as well as her initiatives in Orange County and beyond!
--
Critical Mass Business Talk Show is Orange County's longest-running business talk show, focused on offering value and insight to middle-market business leaders in the OC and beyond. Hosted by Ric Franzi, business partner at Renaissance Executive Forums Orange County.