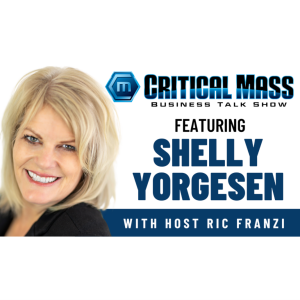 Tuesday Nov 23, 2021
Critical Mass Business Talk Show: Ric Franzi Interviews Shelly Yorgesen, Founder & CEO of Executive Networking Events (Episode 1318)
Shelly Yorgesen is the founder and CEO of Executive Networking Events (ENE), a global pioneer in high-level executive connections and communities. Whether through high-ticket exclusive masterminds at a 1,900-acre estate in Ireland or in online communities, she has successfully helped 1,000s of entrepreneurs and executives understand how to create and leverage their networks to grow their businesses.
Shelly is also an international speaker, bestselling author, and the co-founder and president of Operation Christmas Magic, an Idaho-based non-profit which creates and curates bespoke charity events for her local and global community.
Shelly joins host Ric Franzi on Critical Mass Business Talk Show to discuss Executive Networking Events, as well as Shelly's take on the power of peer learning for business leaders and executives.
---
Critical Mass Business Talk Show is Orange County's longest-running business talk show, focused on offering value and insight to middle-market business leaders in the OC and beyond. Hosted by Ric Franzi, business partner at Renaissance Executive Forums Orange County.
This edition of Critical Mass Business Talk Show is proudly supported by Gottlieb, Rackman & Reisman, P.C. GRR provides legal advice and guidance on all aspects of intellectual property law including patents, trademarks, and copyrights. Learn more at GRR.com.