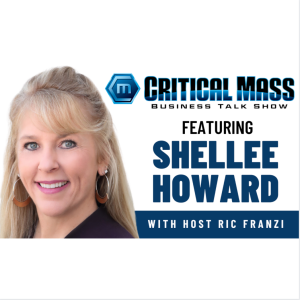 Monday Nov 29, 2021
Critical Mass Business Talk Show: Ric Franzi Interviews Shellee Howard, President of College Ready (Episode 1319)
Shellee Howard is the owner & president of College Ready. A sought-after speaker and consultant to 100s of college-bound students around the world, Shellee is widely regarded as one of the world's leading college planners and strategy consultants. Shellee's groundbreaking strategies help students get into their best-match colleges. Best of all, many graduate debt-free with a job they love waiting for them.
Whether addressing an intimate group or a 'standing room only' arena, audiences count on Shellee to take the fear of planning and paying for college.
Shellee joins host Ric Franzi on Critical Mass Business Talk Show to discuss her entrepreneurial journey and the unique service offering that College Ready provides.
---
Critical Mass Business Talk Show is Orange County's longest-running business talk show, focused on offering value and insight to middle-market business leaders in the OC and beyond. Hosted by Ric Franzi, business partner at Renaissance Executive Forums Orange County.
This edition of Critical Mass Business Talk Show is proudly supported by Gottlieb, Rackman & Reisman, P.C. GRR provides legal advice and guidance on all aspects of intellectual property law including patents, trademarks, and copyrights. Learn more at GRR.com.