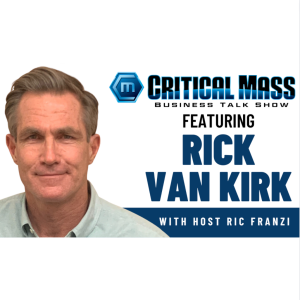 Sunday Jan 30, 2022
Critical Mass Business Talk Show: Ric Franzi Interviews Rick Van Kirk, CEO of Pro-Dex Inc.(Episode 1342)
Rick Van Kirk is an executive who has worked in the Southern California region for 36 years in various manufacturing industries. Following his graduation from California State University, Fullerton in 1982 he has worked in the aerospace, computer, commercial electronics, diecasting, and medical device industries. During this time Van Kirk completed his MBA from Claremont Graduate School in 1991.
Currently, Rick serves as President and CEO of Pro-Dex Inc., a design and manufacturing company in the medical device industry. He joined Pro-Dex as Director of Manufacturing in 2006, and was subsequently promoted to Vice President of Operations and then Chief Operating Officer in April 2013 and then to CEO in January 2015. During his time as CEO Pro-Dex, he has led a successful turnaround of the company and positioned it for further growth.
Previously, Rick served as Manufacturing Manager and Manager of Product Development for the ChargeSource division of Comarco Wireless Technologies, a provider of power and charging functionality for popular electronic devices and wireless accessories, and as General Manager at Dynacast, a leader in precision diecasting.
Recently Rick joined the Board of Directors for the Southern California Special Olympics and is Chair of the Nominating and Governance committee. He has lived in Orange County, California since 1989.
--
Critical Mass Business Talk Show is Orange County, CA's longest-running business talk show, focused on offering value and insight to middle-market business leaders in the OC and beyond. Hosted by Ric Franzi, business partner at Renaissance Executive Forums Orange County. Learn more about Ric at www.ricfranzi.com.
Connect with Ric Franzi on LinkedIn HERE.
Catch up on past Critical Mass Business Talk Show interviews...
YouTube: https://lnkd.in/gHKT2gmF
LinkedIn: https://lnkd.in/g2PzRhjQ
Podbean: https://lnkd.in/eWpNVRi
Apple Podcasts: https://lnkd.in/gRd_863w
Spotify: https://lnkd.in/gruexU6m