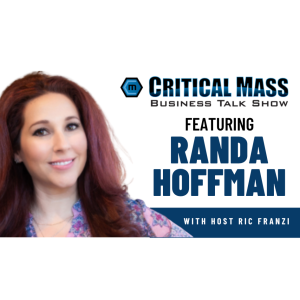 Friday Oct 08, 2021
Critical Mass Business Talk Show: Ric Franzi Interviews Randa Hoffman, Founder of Radiant Wealth Planning (Episode 1307)
Do you work for your money, or does your money work for YOU?
On this episode of Critical Mass Business Talk Show, host Ric Franzi is joined by Randa Hoffman, the founder of RADIANT Wealth Planning, LLC, who launched Radiant Wealth Planning to breathe fresh air into an industry, helping clients navigate the tools needed to make their financial decisions.
Randa offers financial planning and money management insight to her clientele as she teaches them how their money can transport them to a more radiant life if they have the right systems and processes in place.
---
Critical Mass Business Talk Show is Orange County's longest-running business talk show, focused on offering value and insight to middle-market business leaders in the OC and beyond. Hosted by Ric Franzi, business partner at Renaissance Executive Forums Orange County.
This edition of Critical Mass Business Talk Show is proudly supported by Gottlieb, Rackman & Reisman, P.C. GRR provides legal advice and guidance on all aspects of intellectual property law including patents, trademarks, and copyrights. Learn more at GRR.com.