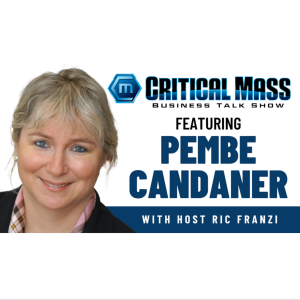 Monday Feb 14, 2022
Critical Mass Business Talk Show: Ric Franzi Interviews Pembe Candaner, President of JobzMall (Episode 1346)
Pembe Candaner is the Co-Founder & President of JobzMall. JobzMall is the new way of finding jobs and exploring organizations, founded with the belief that humans are so much more than a resume, and companies are so much more than a job post. JobzMall Inc. strives to make the job finding process enjoyable, engaging and accessible to everyone.
Prior to her work at JobzMall Inc., Pembe Candaner served as the CEO of Adecco SA Turkey, General Manager of Lee Hecht Harrison, and CEO of Kariyer.net, the largest employment portal of Turkey. She is a member of TUSIAD (Turkish Industry and Business Association), the top business association of Turkey and Society for Human Resource Management. 
As a vocal activist of women rights, Candaner hosted her TV show at national 'Artı Bir TV' channel about Woman Leaders and Entrepreneurs. She has also lectured in Bogazici University (Bosphorus University) and UCI (University of California. Irvine) on Development of Woman Leaders, Talent Management, Protocol and Etiquette and Intercultural Relations. Additionally to her career in private sector, Pembe has authored 4 books, and was awarded as the Business Woman of the Year in 2003.
In this edition of Critical Mass Business Talk Show, Pembe Candaner joins host Ric Franzi to discuss her career path and leadership insights as the President of JobzMall.
--
Critical Mass Business Talk Show is Orange County, CA's longest-running business talk show, focused on offering value and insight to middle-market business leaders in the OC and beyond. Hosted by Ric Franzi, business partner at Renaissance Executive Forums Orange County. Learn more about Ric at www.ricfranzi.com.
Catch up on past Critical Mass Business Talk Show interviews...
YouTube: https://lnkd.in/gHKT2gmF
LinkedIn: https://lnkd.in/g2PzRhjQ
Podbean: https://lnkd.in/eWpNVRi
Apple Podcasts: https://lnkd.in/gRd_863w
Spotify: https://lnkd.in/gruexU6m