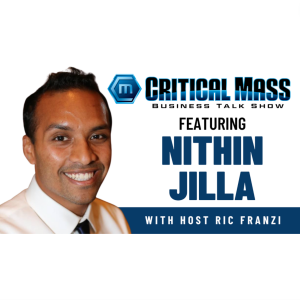 Wednesday Feb 23, 2022
Critical Mass Business Talk Show: Ric Franzi Interviews Nithin Jilla, Founder & Executive Director of Dreams for Schools (Episode 1349)
Nithin Jilla is a passionate educator, social entrepreneur and philanthropist who champions building models and systems of social change that are sustainable and empower the next generation. Nithin began with his first efforts in philanthropy with his high school class – establishing a project to help raise funds to renovate educational facilities and provide students with scholarships in Kenya, to enhance the quality of education, one student and one school at a time.
Nithin currently serves as the Executive Director of Dreams for Schools (DFS), an EdTech organization whose mission is to make STEAM approachable and empower students to become the critical thinkers, creative leaders and technologists of tomorrow. Nithin has also advised and helped run a few family foundations and their grant-making strategies over the years. He's always thinking about how we can reinvent and take new approaches in philanthropy to be more equitable.
Nithin is also the Co-Founder of Excelsior Creative – a creative web development agency. In the community, Nithin serves on several Non-Profit and Advisory Boards of organizations which include Harbor Day School, Asian American Futures, Electric Potential, Donna Ford Attallah College of Educational Studies at Chapman University, and UC Irvine Alumni Association. He's a lover of comedy, a closet chef, and enjoys brewing Kombucha. He cherishes being outdoors, spending time with friends, building and creating things. 
During the pandemic, Nithin co-authored a children's book, R is for Rice, a rhyming alphabet book on Asian-American food with the goal to inspire current and future generations of Asian-Americans to feel pride in their unique American identity. Nithin holds a BS degree in Computer Science from the University of California, Irvine.
In this edition of Critical Mass Business Talk Show, Nithin Jilla joins host Ric Franzi to discuss his various entrepreneurial ventures and the social impact behind his work. 
--
Critical Mass Business Talk Show is Orange County, CA's longest-running business talk show, focused on offering value and insight to middle-market business leaders in the OC and beyond. Hosted by Ric Franzi, business partner at Renaissance Executive Forums Orange County. Learn more about Ric at www.ricfranzi.com.
Catch up on past Critical Mass Business Talk Show interviews...
YouTube: https://lnkd.in/gHKT2gmF
LinkedIn: https://lnkd.in/g2PzRhjQ
Podbean: https://lnkd.in/eWpNVRi
Apple Podcasts: https://lnkd.in/gRd_863w
Spotify: https://lnkd.in/gruexU6m
#orangecountyca #mastermind #ceopeergroups #peergroups #peerlearning #collectiveintelligence #southerncalifornia