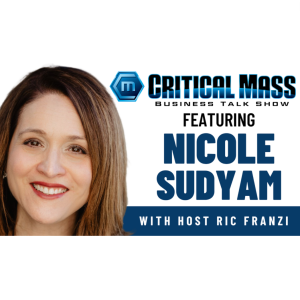 Thursday Feb 03, 2022
Critical Mass Business Talk Show: Ric Franzi Interviews Nicole Suydam, CEO of Goodwill of Orange County (Episode 1344)
Nicole Suydam has more than 20 years of management and leadership experience working with local and national nonprofits dedicated to meeting human service needs. She currently serves as president and CEO of Goodwill of Orange County, one of Orange County's largest nonprofits by revenue.
Suydam leads Goodwill's social enterprise operation that employs nearly 1,800, manages 24 local thrift stores and ShopGoodwill.com – the online e-commerce marketplace for Goodwills across the country – and serves more than 18,000 individuals annually through its innovative programs and services aimed at providing purpose through employment.
Suydam has received several accolades for her commitment to creating a better and brighter Orange County for all, including being named to the Orange County Business Journal's "OC 50" list for 2020 and 2021 for her influence and impact in the community. She was also named one of just six 2019 Women of Coast by Coast Magazine and received the 2018 Women of the Year Award by the Orange County Business Journal. Suydam graduated from Vanguard University in Costa Mesa and lives in Aliso Viejo with her husband and two teenage daughters. 
In this edition of Critical Mass Business Talk Show, Nicole Suydam joins host Ric Franzi for an update on Goodwill of Orange County's work in our community.
--
Critical Mass Business Talk Show is Orange County, CA's longest-running business talk show, focused on offering value and insight to middle-market business leaders in the OC and beyond. Hosted by Ric Franzi, business partner at Renaissance Executive Forums Orange County. Learn more about Ric at www.ricfranzi.com.
Catch up on past Critical Mass Business Talk Show interviews...
YouTube: https://lnkd.in/gHKT2gmF
LinkedIn: https://lnkd.in/g2PzRhjQ
Podbean: https://lnkd.in/eWpNVRi
Apple Podcasts: https://lnkd.in/gRd_863w
Spotify: https://lnkd.in/gruexU6m