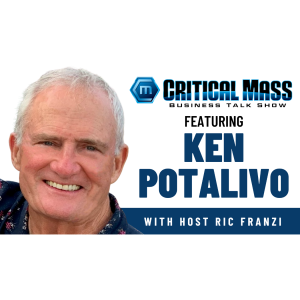 Monday Mar 13, 2023
Critical Mass Business Talk Show: Ric Franzi Interviews Ken Potalivo, Founder of RelPip LLC (Episode 1418)
Ken Potalivo is the founder of ProGrowth LLC & RelPip LLC, and the author of "Secrets of Mindshare – Revenue Producers Get the Referrals They Want By Making Their Competition Irrelevant." He has a strong business background, a degree in Psychology, and an MBA from Pepperdine University.
Ken understands that any professional who does great work can make more money and become indispensable via a consistent flow of client referrals if they have the right process and system in place. He also knows it cannot be done by random networking where chance is in play. The RelPip community is born out of his vision to support all professionals who want the income and stature to live the life they want and to work with others who want the same.
--
Critical Mass Business Talk Show is Orange County, CA's longest-running business talk show, focused on offering value and insight to middle-market business leaders in the OC and beyond. Hosted by Ric Franzi, business partner at Renaissance Executive Forums Orange County. Learn more about Ric at www.ricfranzi.com.
Catch up on past Critical Mass Business Talk Show interviews...
YouTube: https://lnkd.in/gHKT2gmF
LinkedIn: https://lnkd.in/g2PzRhjQ
Podbean: https://lnkd.in/eWpNVRi
Apple Podcasts: https://lnkd.in/gRd_863w
Spotify: https://lnkd.in/gruexU6m
#orangecountyca #mastermind #ceopeergroups #peergroups #peerlearning