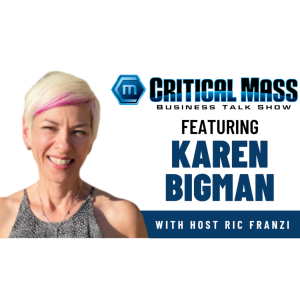 Thursday Nov 04, 2021
Critical Mass Business Talk Show: Ric Franzi Interviews Karen Bigman, Founder of Suite Solutions By Karen (Episode 1316)
In 2021, Karen founded her second company, Suite Solutions by Karen, LLC. After several years running a Divorce Consulting business (The Divorcierge®), Karen decided she preferred 'the business of the business.'
Using her experience and learnings from her first entrepreneurial venture, she now helps other Solopreneurs and small business owners grow and scale their businesses. Karen helps business owners get more time and mental space to focus on their high-impact work.
In addition to her own businesses, Karen's background includes work in computer programming, marketing for IBM, restaurant event management for Union Square Hospitality and Jean-Georges Vongerichten. Karen's education includes a B.S.B.A. from Boston University, a M.B.A. from Columbia Business School, Martha Beck Life Coach and iPEC Coach Certification (CPC®). Karen is also a CDC® Certified Divorce Coach.
Karen's articles have been featured in the Huffington Post, Thrive Global, Medium, YourTango.com, NextTribe.com, RevolutionGray.com, and BetterAfter50. She has also been profiled in the NY Post, Financial Times and UK's Daily Mail and has been a Contributing Writer to Divorced Girl Smiling and Worthy.com.
---
Critical Mass Business Talk Show is Orange County's longest-running business talk show, focused on offering value and insight to middle-market business leaders in the OC and beyond. Hosted by Ric Franzi, business partner at Renaissance Executive Forums Orange County.
This edition of Critical Mass Business Talk Show is proudly supported by Gottlieb, Rackman & Reisman, P.C. GRR provides legal advice and guidance on all aspects of intellectual property law including patents, trademarks, and copyrights. Learn more at GRR.com.