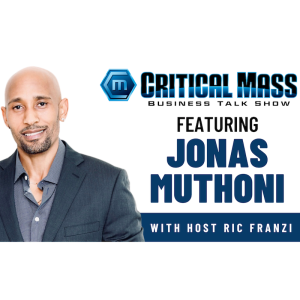 Monday Dec 06, 2021
Critical Mass Business Talk Show: Ric Franzi Interviews Jonas Muthoni, CEO of Deviate Agency (Episode 1322)
With a passion for helping businesses thrive and maximize their potential while delivering best-in-class results, CEO Jonas Muthoni of Deviate Agency is driven by the pursuit of creative excellence, unparalleled service, and long-lasting relationships.
Commonly referred to as Deviate's fearless leader, Jonas draws upon the years of customer service experience, research, and analytical skills he gained while working for Verizon, the largest and leading Fortune 500 wireless communications company in the US.
At Deviate, Jonas sets the bar high with some of the most talented leaders in the field, including remote employees who bring diverse ideas and points of view to the table, leading to winning solutions.
Raised by a single mother of six kids and from a diverse background, Jonas knows what it takes to overcome struggles and unlock potential. With integrity at the backbone of Deviate, Jonas leads his organization with loyalty and trust. In addition to business and entrepreneurship, Jonas spends his time mentoring startups and undergraduates from the University of California, Irvine, as well as volunteering in the community and serving as a Breast Cancer Board member.
Jonas joins host Ric Franzi on Critical Mass Business Talk Show to discuss his insights CEO at Deviate Agency, as well as his leadership philosophies.
---
Critical Mass Business Talk Show is Orange County's longest-running business talk show, focused on offering value and insight to middle-market business leaders in the OC and beyond. Hosted by Ric Franzi, business partner at Renaissance Executive Forums Orange County.
This edition of Critical Mass Business Talk Show is proudly supported by Gottlieb, Rackman & Reisman, P.C. GRR provides legal advice and guidance on all aspects of intellectual property law including patents, trademarks, and copyrights. Learn more at GRR.com.