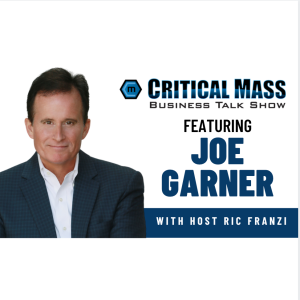 Thursday Sep 09, 2021
Critical Mass Business Talk Show: Ric Franzi Interviews Joe Garner, Founder of Garner Creative Concepts (Episode 1302)
Deemed "the Ken Burns of the written and recorded word" by talk show legend Larry King, New York Times bestselling author Joe Garner took the publishing world by storm with the release of his seminal audio-and-hardcover book We Interrupt This Broadcast. In addition to attaining the New York Times bestseller list in two consecutive years, Garner's inspired pairing of audio, photographs and written word sold over 1-million copies.
Through his production company Garner Creative Concepts, LLC, Garner has conceptualized, written and produced over a dozen commercially successful multimedia book productions.
In his interview on Critical Mass Business Talk Show, Joe Garner highlights the power of taking action, the value of mentorship, and other tales from his creative journey!