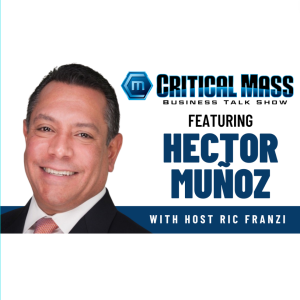 Saturday May 14, 2022
Critical Mass Business Talk Show: Ric Franzi Interviews Hector Muñoz, Senior Helpers of South Orange County (Episode 1362)
Hector Muñoz is the Owner & Head of Community Relations at Senior Helpers of South Orange County. Born in So. Cal. Hector is a Cal Poly Pomona Grad with an MBA from the University of Miami, and has spent over 25 years leading some of the largest restaurant brands in the industry as a Chief Marketing officer.
While living in Miami, he experienced a very challenging situation with his Father Jorge, who was dealing with diabetes, heart disease, and kidney disease. He and Sandy found themselves in a situation where they needed someone to care for their dad, given Mom was dealing with dementia. At the time, over 10 years ago, professional high-quality caregiving was not as widely available as it is today, so they had to look for whomever they could find to help Dad and ended up settling for someone who was inexperienced in the field but could at least tend to Dad's immediate needs, like medication reminders, bathing, and medical appointments. But the needs were greater, and we knew there had to be a better way to address those needs. Hence the birth of Senior Helpers of South Orange County located in the city of Irvine, CA.
Hector became involved with Senior Helpers with the goal of providing dependable, loving, and affordable care for the elderly and therefore making a difference in their day-to-day lives. In the spirit of our servant leadership culture, Senior Helpers of South Orange County puts the needs of our caregivers and clients ahead of their own.
--
Critical Mass Business Talk Show is Orange County, CA's longest-running business talk show, focused on offering value and insight to middle-market business leaders in the OC and beyond. Hosted by Ric Franzi, business partner at Renaissance Executive Forums Orange County. Learn more about Ric at www.ricfranzi.com.
Catch up on past Critical Mass Business Talk Show interviews...
YouTube: https://lnkd.in/gHKT2gmF
LinkedIn: https://lnkd.in/g2PzRhjQ
Podbean: https://lnkd.in/eWpNVRi
Apple Podcasts: https://lnkd.in/gRd_863w
Spotify: https://lnkd.in/gruexU6m
#orangecountyca #mastermind #ceopeergroups #peergroups #peerlearning #collectiveintelligence #southerncalifornia #criticalmassbusinesstalkshow