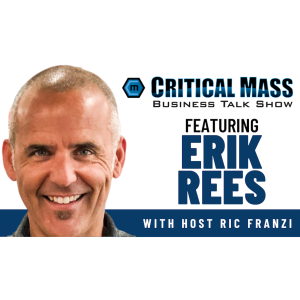 Friday Oct 29, 2021
Critical Mass Business Talk Show: Ric Franzi Interviews Erik Rees, Co-Founder of the Jessie Rees Foundation (Episode 1312)
For more than 25 years, Erik Rees has dedicated himself to empowering people to find and fulfill their God-given purpose in life. Rees began his career in 1993 as a pastor, strategist and trainer at world-renowned Saddleback Church, where he helped grow the congregation from 3,000 to more than 30,000 followers over a 20-year period.
Upon losing his daughter, Jessie, to inoperable brain cancer on January 5, 2012, he and his wife Stacey formed the Jessie Rees Foundation and has functioned as a member of the Board to ensure that children fighting cancer have the support and resources they need to "Never Ever Give Up." He shares this inspiring message in his newest book Never Ever Give Up: The Inspiring Story of Jessie and her JoyJars.
Under the daily leadership of his wife, the Jessie Rees Foundation has raised over $25,000,000 dollars in donations to care for children impacted by cancer. They have also stuffed and sent over 350,000 JoyJars to children fighting cancer in all 50 states and 41 countries. He and his wife live in Orange County, Calif. with their two other children, Shaya and JT, and their dogs.
Erik joins Ric Franzi on Critical Mass Business Talk Show to share the mission and story of the Jessie Rees Foundation, and his leadership insights as co-founder of the organization.
---
Critical Mass Business Talk Show is Orange County's longest-running business talk show, focused on offering value and insight to middle-market business leaders in the OC and beyond. Hosted by Ric Franzi, business partner at Renaissance Executive Forums Orange County.
This edition of Critical Mass Business Talk Show is proudly supported by Gottlieb, Rackman & Reisman, P.C. GRR provides legal advice and guidance on all aspects of intellectual property law including patents, trademarks, and copyrights. Learn more at GRR.com.