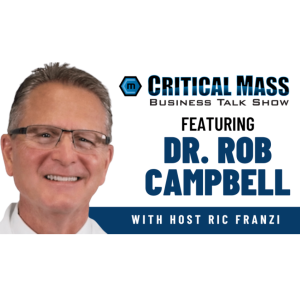 Friday Oct 22, 2021
Critical Mass Business Talk Show: Ric Franzi Interviews Dr. Rob Campbell, OC Disc Associates (Episode 1310)
The founder of Orange County Disc Associates, Dr. Rob Campbell has been in practice for 30+ years, dedicating 100% of his energy, attention, talent and time on being a specialist in the treatment of disc conditions and their related pain. This allows patients with serious disc conditions access to the exclusive non-surgical treatment designed for their unique needs.
It was in 2008 that Dr. Campbell became inspired by creating the possibility that there was a solution for people in discomfort with severe disc conditions by offering a different and unique method to living with past failures, disability, and the real possibility of spinal surgery.
Rather than relying on "standard of care" procedures that cause patients to lose faith, trust and hope in ever getting better, Orange County Disc Associates offers a relevant solution that makes sense.
---
Critical Mass Business Talk Show is Orange County's longest-running business talk show, focused on offering value and insight to middle-market business leaders in the OC and beyond. Hosted by Ric Franzi, business partner at Renaissance Executive Forums Orange County.
This edition of Critical Mass Business Talk Show is proudly supported by Gottlieb, Rackman & Reisman, P.C. GRR provides legal advice and guidance on all aspects of intellectual property law including patents, trademarks, and copyrights. Learn more at GRR.com.