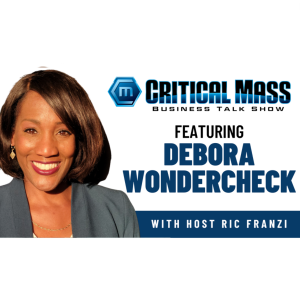 Tuesday Feb 01, 2022
Critical Mass Business Talk Show: Ric Franzi Interviews Debora Wondercheck, CEO of Arts & Learning Conservatory (Episode 1343)
Debora Wondercheck is the CEO of Arts & Learning Conservatory (ALC). An effective corporate leader with seventeen years of experience in strategy development, program management, and implementation, Debora focuses on culturally sensitive and inclusive afterschool artistic training and education for all children in k-12 schools, particularly those who are underresourced.
As the founder of the nationally acclaimed Arts & Learning Conservatory (ALC), Wondercheck has a proven track record in fundraising, public education, executive leadership, non-profit governance, community building, and program development. Her professional interests include arts education sustainability, board development, and equitable access to the arts. Her extensive expertise in music and education, combined with her ability to build strong partnerships across the public and private sectors has delivered powerful results throughout her career.
As the go-to for afterschool programs, Wondercheck's relationships have created artistic experiences for over 40 schools throughout Southern California. She is particularly proud of her recent partnerships with the Orange County Department of Education and the YMCA of Orange County. In addition to her work at the Arts & Learning Conservatory, Wondercheck serves on the Board of Directors for Arts Orange County, The Cultural Committee for the City of Costa Mesa, Philharmonic Society, Copper Tree Management, Orange County Theater Guild, and the Waldorf School of Orange County DEI committee among others. She is committed to using her experience to broaden access to high-quality education by supporting innovation, reducing barriers to entry, and building strong communities.
Some of her accomplishments include 2021 National Association of Women in Business, Board Pathways Graduate, 2021 Fieldstone Executive Graduate, 2021 Orange County Business Journal Women in Business Nomination, 2019, California State University, Gianneschi Leadership Fellow. Wondercheck is an accomplished conductor and cellist and volunteers with the children's ministry at the Rock Church of Anaheim. Debora, a product of Orange County, is married to Gary, they have three teenage children and reside in Garden Grove, CA.
--
Critical Mass Business Talk Show is Orange County, CA's longest-running business talk show, focused on offering value and insight to middle-market business leaders in the OC and beyond. Hosted by Ric Franzi, business partner at Renaissance Executive Forums Orange County. Learn more about Ric at www.ricfranzi.com.
Catch up on past Critical Mass Business Talk Show interviews...
YouTube: https://lnkd.in/gHKT2gmF
LinkedIn: https://lnkd.in/g2PzRhjQ
Podbean: https://lnkd.in/eWpNVRi
Apple Podcasts: https://lnkd.in/gRd_863w
Spotify: https://lnkd.in/gruexU6m