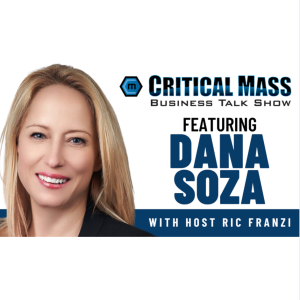 Friday Oct 29, 2021
Critical Mass Business Talk Show: Ric Franzi Interviews Dana Soza, Founder and CEO of Dana Soza Customer Solutions (Episode 1313)
Dana Soza is a globally recognized Top 100 Customer Success Strategist, and Founder and CEO of a customer success consultancy/coaching practice for customer success newbies and professionals alike in Newport Beach, CA.
With an award-winning 20+ year career as a sales executive, certified educator, and recognized CS thought leader, Dana advises aspiring newbies, experienced professionals, and companies to excel along their CS journey. She is chapter leader for Gainsight's PulseLocal OC's How-To Happy Hour and contributor to the Customer Success Association's first-ever CSM Competency Standards.
Dana is the author of How to Land and Succeed in the Customer Success Profession: a success playbook for your employment journey, and creator of several signature programs including her CS Career Evolution Framework, CS Breakfast Club series, and the #CustomerEverything Club.
Dana joins Ric Franzi on Critical Mass Business Talk Show to discuss the Customer Success niche, and Dana's current initiatives within the industry.
---
Critical Mass Business Talk Show is Orange County's longest-running business talk show, focused on offering value and insight to middle-market business leaders in the OC and beyond. Hosted by Ric Franzi, business partner at Renaissance Executive Forums Orange County.
This edition of Critical Mass Business Talk Show is proudly supported by Gottlieb, Rackman & Reisman, P.C. GRR provides legal advice and guidance on all aspects of intellectual property law including patents, trademarks, and copyrights. Learn more at GRR.com.