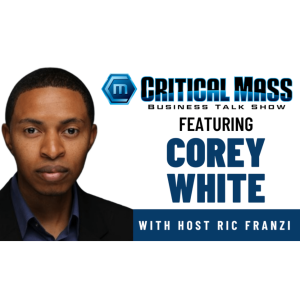 Sunday Dec 19, 2021
Critical Mass Business Talk Show: Ric Franzi Interviews Corey White, Founder of Cyvatar.ai (Episode 1325)
As a transformative servant leader, Corey White is a proven entrepreneur focused on innovating and creating new paradigms in the security industry and life. His leadership style is focused on an employee-first approach because of the positive impact of happy employees on their customer relationships. Corey has chosen to take a people-centric approach to life and to let all outcomes be driven by that philosophy. Twenty-five years of experience in the security industry has seasoned him to create the next exponential evolution.
As Founder and Chief Experience Officer, Corey has created Cyvatar.ai to enable vendor partners to deliver reliable, repeatable, and measurable business outcomes to clients through an outstanding customer experience. This also allows the partner to engineer out complexity, improve renewal/upsell/cross-sell opportunities, and increase their customer satisfaction and referrals.
On this edition of Critical Mass Business Talk Show, Corey joins host Ric Franzi on the show to discuss Corey's leadership of Cyvatar.ai, a technology-enabled cybersecurity as a service (CSaaS) provider disrupting a $150 billion industry by introducing and delivering smarter, measurable subscriptions to help clients achieve compliance and security.
---
Critical Mass Business Talk Show is Orange County's longest-running business talk show, focused on offering value and insight to middle-market business leaders in the OC and beyond. Hosted by Ric Franzi, business partner at Renaissance Executive Forums Orange County.
This edition of Critical Mass Business Talk Show is proudly supported by Gottlieb, Rackman & Reisman, P.C. GRR provides legal advice and guidance on all aspects of intellectual property law including patents, trademarks, and copyrights. Learn more at GRR.com.