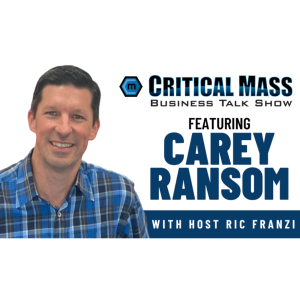 Friday Oct 29, 2021
Critical Mass Business Talk Show: Ric Franzi Interviews Carey Ransom, Founder of Operate (Episode 1315)
Carey Ransom is a technology entrepreneur, executive, investor and advisor, and has started, grown and/or led 8 B2B and consumer technology companies during startup and growth phases.
He is Founder & President of Operate, a SoCal-focused venture studio and fund, where he and his team invest themselves and capital into founders of exciting data-centric SaaS startups. In the last 18 months, Operate has partnered with 12 of these early companies.
Carey's 25-year career spans executive roles in product, marketing, business development, strategy and corporate development, and he is very active in the Southern California startup and investment community. Carey has recruited and hired nearly 1000 people in the last 20 years, and passionately believes in purpose, culture, talent and timing as key ingredients to successful companies.
Carey Ransom chats with Ric Franzi about his leadership of Operate, and his belief in the potential for a vibrant Orange County start-up community.
---
Critical Mass Business Talk Show is Orange County's longest-running business talk show, focused on offering value and insight to middle-market business leaders in the OC and beyond. Hosted by Ric Franzi, business partner at Renaissance Executive Forums Orange County.
This edition of Critical Mass Business Talk Show is proudly supported by Gottlieb, Rackman & Reisman, P.C. GRR provides legal advice and guidance on all aspects of intellectual property law including patents, trademarks, and copyrights. Learn more at GRR.com.