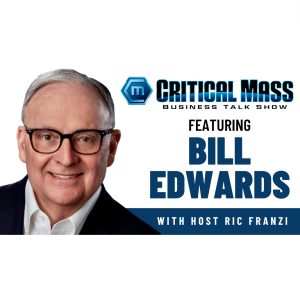 Tuesday Jun 28, 2022
Critical Mass Business Talk Show: Ric Franzi Interviews Bill Edwards, CEO of Edwards Global Services (Episode 1371)
During an extraordinary four-decades in international business, William (Bill) Edwards, CEO & Global Advisor, Edwards Global Services, Inc. (EGS), has played a leadership role in the successful global growth of more than 40 small, INC 5000 and Fortune 100 companies. He is widely recognized as an International Problem Solver, strategist, advisor and specialist on global cultures. His career covers international operating executive, and entrepreneurial experience in the energy, technology, licensing, management consulting and retail sectors. He has been a technical specialist, district manager, master licensee, brand senior executive and brand country president. Mr. Edwards has also started several international businesses.
Bill has lived in China, the Czech Republic, Hong Kong, Indonesia, Iran, and Turkey and directed projects in over 50 countries. Mr. Edwards' company has twice received the U.S. Presidential award for export excellence. He has published the respected GlobalVue™ country ranking analysis quarterly for 20 years and publishes a biweekly global business update newsletter that can viewed at: www.geowizard.biz
Mr. Edwards is the Vice Chair of the District Export Council of Southern California and the Vice Chair / Incoming Chair of the World Affairs Council of Orange County. He is also a member of the UC Irvine Institute for Memory Impairments and Neurological Disorders (UCI MIND) Leadership Council. 
--
Critical Mass Business Talk Show is Orange County, CA's longest-running business talk show, focused on offering value and insight to middle-market business leaders in the OC and beyond. Hosted by Ric Franzi, business partner at Renaissance Executive Forums Orange County. Learn more about Ric at www.ricfranzi.com.
Catch up on past Critical Mass Business Talk Show interviews...
YouTube: https://lnkd.in/gHKT2gmF
LinkedIn: https://lnkd.in/g2PzRhjQ
Podbean: https://lnkd.in/eWpNVRi
Apple Podcasts: https://lnkd.in/gRd_863w
Spotify: https://lnkd.in/gruexU6m
#orangecountyca #mastermind #ceopeergroups #peergroups #peerlearning