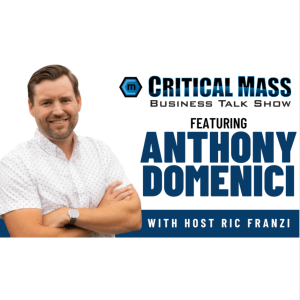 Friday Oct 29, 2021
Critical Mass Business Talk Show: Ric Franzi Interviews Anthony Domenici, Founder & CFO of BASECAMP Consulting Group (Episode 1314)
BASECAMP Consulting Group was started by two like-minded professionals with the desire to work with good people and help them achieve their business dreams.
Based in Southern California, BASECAMP Consulting Group is passionate about building businesses through structured and sustainable growth. The firm provides the structure and tools needed for brands to look to the future.
A cross-functional executive who happens to be a financial expert, Anthony Domenici, BASECAMP Founder & CFO, is is a well-rounded leader with 16+ years of experience in finance, treasury, and accounting. A dynamic thought leader and strategic business partner to all levels of an organization, Anthony has extensive experience in public and private companies in financial services, real estate, and CPG industries.
---
Critical Mass Business Talk Show is Orange County's longest-running business talk show, focused on offering value and insight to middle-market business leaders in the OC and beyond. Hosted by Ric Franzi, business partner at Renaissance Executive Forums Orange County.
This edition of Critical Mass Business Talk Show is proudly supported by Gottlieb, Rackman & Reisman, P.C. GRR provides legal advice and guidance on all aspects of intellectual property law including patents, trademarks, and copyrights. Learn more at GRR.com.