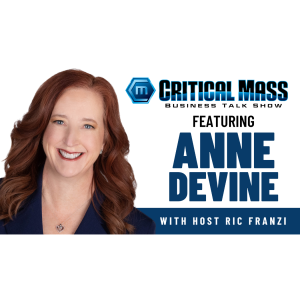 Thursday May 18, 2023
Critical Mass Business Talk Show: Ric Franzi Interviews Anne Devine, President & CEO of Janus Electric (Episode 1431)
Anne Devine is the CEO of Janus Electric, a leader in groundbreaking EV battery technology and revolutionary exchangeable battery systems for heavy vehicles.
Before joining Janus Electric, Ms. Devine served as Romeo Power's Chief Operating Officer, where she was responsible for managing operating and production capabilities, driving operational excellence, improving efficiencies, and transforming the Company's commercial EV battery manufacturing processes from prototype to commercial production.
Ms. Devine has more than 25 years of diverse experience in operational and manufacturing management, with unique automotive industry expertise from tenures at Ford, Navistar and UGN, as well as supply chain development, procurement, program management, vehicle launch, engineering and operations. Ms. Devine holds a Master of Science in Engineering Management from the University of Michigan and a Bachelor of Science in Industrial Engineering from Kettering University.
Throughout her career, Ms. Devine has given back through involvement in professional and community organizations, including STEM-related initiatives that inspire the next generation of leaders in science, technology, engineering and math. Ms. Devine is currently a member of the Automotive Women's Alliance, Women of Renewable Industries and Sustainable Energy, California State University, Long Beach's 100+ Women Strong program.
--
Critical Mass Business Talk Show is Orange County, CA's longest-running business talk show, focused on offering value and insight to middle-market business leaders in the OC and beyond. Hosted by Ric Franzi, business partner at Renaissance Executive Forums Orange County. Learn more about Ric at www.ricfranzi.com.
Catch up on past Critical Mass Business Talk Show interviews...
YouTube: https://lnkd.in/gHKT2gmF
LinkedIn: https://lnkd.in/g2PzRhjQ
Podbean: https://lnkd.in/eWpNVRi
Apple Podcasts: https://lnkd.in/gRd_863w
Spotify: https://lnkd.in/gruexU6m
#orangecountyca #mastermind #ceopeergroups #peergroups #peerlearning