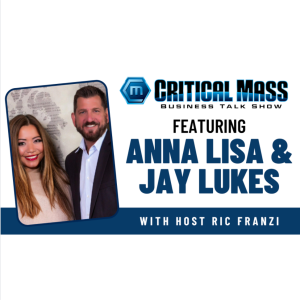 Sunday Dec 19, 2021
Critical Mass Business Talk Show: Ric Franzi Interviews Anna Lisa Lukes & Jay Lukes, Co-Founders of The Lukes Network (Episode 1328)
Anna Lisa Lukes & Jay Lukes are the co-founders of The Lukes Network, LLC, an organization that uses the power of stories, data and collaboration to make an impact on organizations and communities.
A purpose-driven full-service marketing and sustainability company, Anna Lisa Lukes founded The Lukes Network with twenty years of experience in executive-level management, marketing, fundraising, and sustainability to draw upon. Co-founder Jay Lukes, also the firm's Chief Operating Officer,  comes to the table with more than 20 years of experience in sales and marketing, including digital and traditional advertising across industries. 
A 51+% woman- and minority-owned company, The Lukes Network exists to make an impact on organizations and the community, with primary focus areas being government agencies, small businesses (real estate, food, beverage, hospitality and services) and nonprofits. 
Co-Founders Anna Lisa & Jay join host Ric Franzi on Critical Mass Business Talk Show to discuss their business model with The Lukes Network, their leadership insights, and their collaboration as partners.
---
Critical Mass Business Talk Show is Orange County's longest-running business talk show, focused on offering value and insight to middle-market business leaders in the OC and beyond. Hosted by Ric Franzi, business partner at Renaissance Executive Forums Orange County.
This edition of Critical Mass Business Talk Show is proudly supported by Gottlieb, Rackman & Reisman, P.C. GRR provides legal advice and guidance on all aspects of intellectual property law including patents, trademarks, and copyrights. Learn more at GRR.com.